During Donald Trump's campaign for the presidency he constantly emphasized bringing jobs, specifically manufacturing jobs, back to the United States. Many of his supporters loved the nationalist rhetoric spurred by the  "Make America Great Again" spirit around which many rallied behind him. However, one must ask…is bringing manufacturing jobs back to the United States really in the best interests of the American people?
A company that President Trump has focused on is Apple. Everyone knows that Apple makes the iPhone, but not many know what the manufacturing process entails to bring this product to one's fingertips. iPhone production is a truly global ordeal.
A closer look at the component manufacturers of some of iPhone parts:
Accelerometer:

Bosch Sensortech. Based in Germany, with locations in the U.S., China, South Korea, Japan, and Taiwan

Audio chips:

Cirrus Logic. Based in the U.S., with locations in the U.K., China, South Korea, Taiwan, Japan, and Singapore

Battery:

Samsung. Based in South Korea, with locations in 80 countries

Camera:

Qualcomm. Based in the U.S., with locations in Australia, Brazil, China, India, Indonesia, Japan, South Korea, and more than a dozen locations through Europe and Latin America

Compass:

AKM Semiconductor. Based in Japan, with locations in the U.S., France, England, China, South Korea, and Taiwan

Glass screen:

Corning. Based in the U.S., with locations in Australia, Belgium, Brazil, China, Denmark, France, Germany, Hong Kong, India, Israel, Italy, Japan, South Korea, Malaysia, Mexico, Philippines, Poland, Russia, Singapore, South Africa, Spain, Taiwan, The Netherlands, Turkey, the U.K., and the United Arab Emirates

Gyroscope:

STMicroelectronics. Based in Switzerland, with locations 35 countries

Flash memory:

Toshiba. Based in Japan, with locations in over 50 countries  

LCD screen:

Sharp. Based in Japan, with locations in 13 countries

A-series Processor:

TSMC. Based in Taiwan, with locations in China, Singapore, and the U.S.

Touch ID:

Xintec. Based in Taiwan.
Source: Lifewire, Where Is the iPhone Made?
Next step, assembly. iPhones are assembled by two companies both of which are based in Taiwan – Foxconn and Pegatron. Even though both corporate headquarters are located in Taiwan, iPhone manufacturing is largely located at their Chinese plants. Of the two, Foxconn handles the clear majority of iPhone manufacturing. Trump has championed a potential deal to bring Foxconn to Wisconsin for American job creation. We believe this is not an appropriate course of action for both domestic and foreign economies.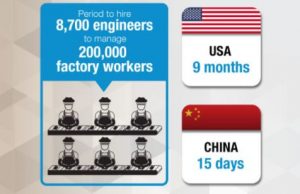 Source: CompareCamp.com, How & Where iPhone is Made
To put it simply, uprooting the firmly established industrial metropolises that Foxconn and Pegatron established would be a nightmare and only damage the iPhone market. The costs and space needed to recreate the size of these massive clusters of factories would be astronomical. Perhaps the largest advantage of these southeast Asian centers is the availability of labor. Staffing alone would be a major obstacle for the US market as the Chinese can staff the 200,00 workers needed in 15 days while the US would take 18 times as long (Alex Hillsberg compareonline.com).
These companies also train their extensive management networks that would not be able to make the trip across the Pacific, so an entire management class would need to be fabricated from nothing. In a system that succeeds and fails on timing and efficiency, the Foxconn and Pegatron plants in China are built and run as close to perfectly as possible. Training management would take too long and be another major expense for these companies. Moving to the US would not help Apple or any of the manufacturing corporations in any way. Not to mention, consumers domestic and abroad lose due to increased retail prices.
Works Cited
Costello, Sam. "Where Is the IPhone Made?
Hillsberg, Alex. "How & Where IPhone Is Made: Comparison Of Apple's Manufacturing Process."