The United States Census Bureau issued a 2014 report stating that between 2012 and 2050, the US will experience considerable growth in its older population. The proportion of people aged 65 or older in the United States population has already begun to grow.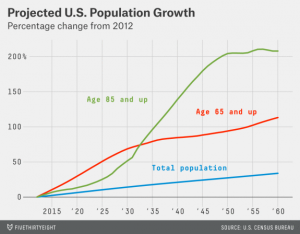 https://fivethirtyeight.com/features/what-baby-boomers-retirement-means-for-the-u-s-economy
As the generation of baby boomers, those born between 1940s to the 1960s, reach retirement age, America faces an oncoming labor shortage. The FRED graph below shows the decline in civilian labor participation rate starting in 2000, which can be partly attributed to the baby boomer generation retiring.

https://fred.stlouisfed.org/series/CIVPART
A steadily declining population can bode poorly for a highly advanced economy such as the United States. People above the age of 65 are typically in retirement and therefore do not contribute much to the economy. They are only contributing minimally to productivity and do not spend or consume as much as their younger counterparts. They also are less likely to be able to support themselves, leading to their dependence on others, whether it be on the government, on families, or on both.
But does the decline in population actually stunt the economy?
The main effect on the economy caused by their retirement of the baby boomers is a labor shortage, which leads to dozens of more economic problems. As the baby boomers begin to retire, they are leaving the labor force much smaller than it was in their day, and while this may seem like a good thing because of the possibility of reduced unemployment, there are many downsides to a smaller labor force. To begin with, as more people retire, a larger percent of the population will be reliant on the government for support, meaning more social security and medicare. This is especially true as a large portion of baby boomers are not financially prepared for retirement.
Another effect of the retirement of baby boomers is less knowledge and expertise in the workplace. As of now, the baby boomers have spent the longest time in the workforce and therefore have the most experience and expertise in their fields of work. As they retire, new and inexperienced workers will enter the workforce with less mentors. The decrease in the level of expertise will lead to a decrease in labor productivity and  will have a very large impact on the growth of the economy considering rising productivity is key to long-term economic growth.  
With this being said, some economists still argue for the benefits that population growth presents for an economy, particularly in developing nations.  
We have listed just two examples of how the economy will be affected by the retirement of the baby boomers. What are the rest of the effects? For example, the real estate market and investment spending will both be affected, but in what ways? Will families be negatively affected? What about society as a whole?
Written by Annie Gianakos and Liza Lanier.
Sources:
https://www.census.gov/prod/2014pubs/p25-1140.pdf
https://fivethirtyeight.com/features/what-baby-boomers-retirement-means-for-the-u-s-economy/
https://www.thoughtco.com/the-baby-boom-and-the-future-of-the-economy-1147532