By Paige Williams and Katie Martin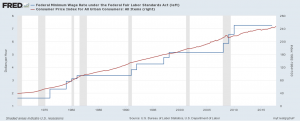 This graph show the Consumer Price Index and the federal minimum wage. In general, the minimum wage has appeared to move up with prices. This is notable because it suggests that since minimum wage was enacted the real purchasing power of those who receive it has not changed significantly.
How are minimum wage and CPI related?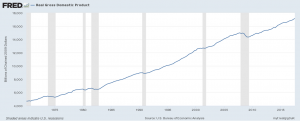 This graph shows real GDP from 1970 to 2017. Is there a correlation between the relationship of minimum wage and CPI and GDP? Are there any specific years that insinuate this correlation?
Real GDP means that it is adjusted for inflation. Our economy is growing over this time yet the minimum wage is only tracking with inflation. This means that in macro terms, those who receive minimum wage have a smaller portion of the income in our economy now than in 1970. Accounting for inflation, should the federal government raise minimum wage? What are the possible short term and long term affects, especially as it relates to the labor market?