On November 2nd, President Trump nominated Jerome Powell for the position of Fed Chairman. He had previously been a member of the Federal Reserve Board of Governors. Governor Powell will be replacing the current Fed Chairman, Janet Yellen, in the coming weeks. He will preside over the seven-member Federal Reserve Board of Governors who set the interest rate and control the U.S. money supply. It has been argued that the Fed chairman is the most powerful appointed position in the U.S. government. Over the past few weeks Powell has testified in front of Congress as part of the confirmation process. He has indicated that his policy decisions will likely mirror Yellen's past decisions.
Yellen's monetary policy focused on gradual interest rate increases aimed at curbing growing inflation. During his Congressional confirmation hearing, Powell said, "I think the case for raising interest rates at our next meeting is coming together. I think that conditions are supportive of doing that." At the December meeting, he is likely to lead the Board of Governors through a raise in the interest rate, which is expected to lower inflation through a decrease in disposable income.
This graph depicts the inflation rate over the past five years and the anticipated inflation rate over the next five years: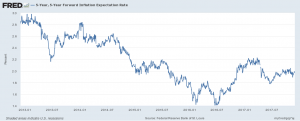 Questions:
Why would this increase in interest rates have this expected effect?
What are the risks of rising inflation?
Are there any other effects to the American economy with a transition of the Fed Chair position?
Anna Litvak & Gabby Smith