Trammell and Hornak
Since the inauguration of Donald Trump in 2017, the value of the U.S. dollar has steadily declined. In the last year, the value of the trade-weighted U.S. dollar index has dropped from 127.25 to 117.50. This index measures the average of the foreign exchange value of the U.S. currency with those of our major trading partners. 
This graph represents the Broad Trade Weighted U.S. Dollar Index. Click on it to open in FRED
So what does this mean for the U.S. economy? While the decline in value of the U.S. dollar sounds like a bad thing, some economists believe that it is actually beneficial. One of the goals of the Trump administration has been to decrease the value of the U.S. dollar. By dropping its value, the U.S. is able to increase its exports, therefore fostering domestic economic growth. When the dollar value decreases, foreign countries can exchange their currency for more U.S. dollars. This makes the dollar more competitive in foreign markets and explains the expected economic growth.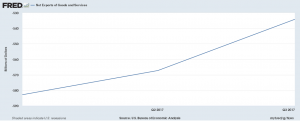 Net Exports of Goods and Services of the United States. 
Obviously, however, there is a huge negative consequence for decreasing the value of the U.S. dollar. Goods and services now cost more for American consumers. What is good for the economy could be good for the consumer, because companies are getting more profit from exports which could then benefit their workers. However, the results of Trump's policy have largely benefited the companies more than the individual consumers. Some people have naturally profited from the success of their company. Which should be more important to policymakers: the companies or the individuals?