by Caroline Trammell and Cade Hornack
Last week President Trump announced a new 25% tariff on steel imports. The intention of the tax is to help the U.S. manufactures recover from the lasting effects on steel prices from the 2008 recession. However, this tariff will most likely hurt U.S. consumers and producers, including those in the car and machinery industries.
This graph shows how the price of steel imports spiked during the recession and has not come back to the previously lowest levels since. Before the recession, the U.S. produced steel on par with its rivals in Europe and China. While the U.S. struggled to recover, other countries such as India and Korea increased their production. The U.S. has fallen behind the steel production levels of other countries.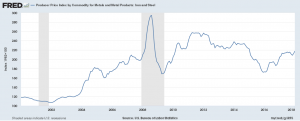 This graph shows how the price of manufacturing steel increased during the 2000s and has never fully recovered since the recession.
The new tariff is intended to respond to the declining U.S. steel production. Commerce Secretary Wilbur Ross has pressured Trump impose the tax on steel imports to product American industry from foreign competition. Ross believes the tariff will cut competition and allow U.S. steel producers to flourish. However, these tariffs will likely do nothing more than increase prices of steel goods for the American consumer. The problem is a result of American consumer interests. Consumers in the U.S. are purchasing foreign-made steel goods rather than ones made in their own country. The production and consumption of steel occurs in these other nations while the U.S. is importing more.
The tariff is designed to decrease this trade deficit  by allowing U.S. steel manufacturers to produce at competitive rates. However, seeing that this is a consumer problem it is very possible that the tariff will only increase domestic prices.