By Emma Pollard and Wilson Montjoy
When Britain's Prime Minister Theresa May initiated the two year process of leaving the European Union on March 29, 2017, many members of the British government feared an immediate economic crisis. Instead, the UK economy, which grew approximately 1.8% during 2016, continued to grow at the same rate in 2017. Inflation rates rose to 3.1%, which is the highest in six years, but unemployment rates have continued to fall. In August 2017, British unemployment was the lowest it had been in 42 years at 4.4%. However, these record-low rates of unemployment are not as great as one might think. The very low rate of unemployment is resulting in lower pay, because the number of people at work is at a record high. This decrease in income, caused by the fact that price inflation is still rising at a faster rate than wages, has caused an major slowdown in economic growth. Additionally, given the uncertainty of the future repercussions of Brexit, companies have been hiring more people instead of buying new technology or equipment, ultimately slowing down economic growth.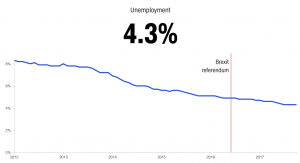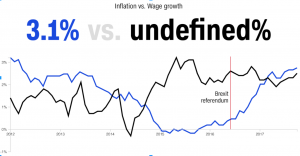 Source for Graphs: CNN Money


Although many anticipated that Brexit would cause economic upheaval, the Post-Brexit changes to inflation, wages, and unemployment are quite tame when compared to the changes seen in the Great Recession. In 2008 the the United Kingdom's unemployed population increased by 33%. During this same period inflation grew by 12.5%, greatly outpacing the 1.5% by which wages increased. In 2009 the growth of the unemployed population slowed down, growing only 3.46 percent. In the meantime inflation exploded by 61% while wages only grew by 3.9%. These numbers demonstrate that while Brexit had brought economic change in the United Kingdom, those changes are significantly less severe that the unemployment and cost of living increases Britain experienced during the Great Recession.